This post discusses the User-Centric Fundamentals course as part of Track 1 (of 7) for the Growth Marketing program from the CXL Institute. The course is taught by user experience consultant Paul Boag. It covers high-level introductions to audience surveys, top task analysis, customer journey mapping, card sorting, and user testing: the science (and art) of using digital tools to create the best possible consumer experience through user research and user experience (UX) design. (This is a general overview – other courses within the Growth Marketing program provide a deeper exploration of these topics.)
---
Preliminary Consumer Research (for Free).
Before diving into specific user research or UX practice techniques, the course highlights a few obvious but at times overlooked sources of consumer information from within a company: 
Sales data and sales team

– Boag suggests spending time both digging into sales data and personally interviewing your sales team. While the sales data is a no-brainer, in my experience sales teams have a tendency to arrive at assumptions through the singular lens of sales revenue not necessarily supported by data. I advise focusing here on the quantitative data above the qualitative/anecdotal sales team feedback.

Customer support team

 – I believe that support teams provide the most accurate 'current state' lens of a company's products and services – and because feedback within most support teams is accurately tabulated, the story and the data matchup. The caution here is that it's often problems and complaints that lead to support contact, which can negatively skew your understanding of consumer sentiment. It can be helpful to offset support data against total volume and sentiment across your entire company. (Example: 30% of support contact might be relevant to a certain negative feature or service, but if only 1% of customers contact the company, does that mean 99% don't have an issue?)

Social media

 – Boag paints a wondrous picture of using social media to obtain highly granular individual feedback. This is perhaps possible for very small businesses, but at any kind of scale social media data is only useful in painting a broad picture of your consumers to gain general insights. And, because a large percentage of support now routes through social channels, direct feedback tends to skew overly-negative.

Simple analytics

– Boag quickly touches on free analytics like inbound search results for understanding how top terms can act as an effective starting point for building personas and customer journeys. Similarly, website analytics like top pages and page view time can act as starting points.
Surveys to Understand Customers.
An effective yet simple starting point to understanding your customer is survey deployment, either on your website or through a third-party. The course provides some general guidelines for surveys:
Zero-in on what you are trying to discover – 

You need to know the specifics of what you need to know, and nothing more. In other words, bloated surveys result in low completion rates and useless data. Ask only the question that needs to be answered.

Very short and very simple

– If you can, use just one question. If not one question, at least stick to one topic of questioning. Use closed questions (predefined options vs open feedback responses). Make every question VERY simple in language and style, especially the first one, and explain why you are asking the question.

Focus on what customers want instead of who they are –

That means goals, pain points, objections to your products and services.

Present the survey at the right moment

 – Exit intent and post-purchase are generally the highest response windows.

DO NOT ask for personal information

 or contact info.
Discover the Power of 'Top Task' Analysis.
Top Task analysis is a specific type of survey started by Jerry McGovern for website testing (otherwise known as 'top objection' analysis). It is useful to discover what questions and/or objections might prevent a customer from taking action to buy or use a product. A robust breakdown of Top Task Analysis can be read here, but the general process is as follows:
Brainstorm as many customer questions and objections (if no hard data exists, use the preliminary research suggested at the beginning of this post). You should end up with hundreds of questions and objections.

From these hundreds, merge similars ideas and remove any outliers that are too specific. 

You should end up with about 60-100 in total.

Deploy a survey 

on email or website where you ask customers to rank that full list of items. Have them

rank from 1-5

, with 5 being the most important. 

Because customers are forced to scan the list due to its length,

their eyes automatically hunt for what is critically important to them

.

Most customers will identify only a handful of 5 out of 5 scores from the massive list – these are their 'top tasks'.

Consolidate results to identify common top tasks across participants. 

Any survey tool (like 

Typeform

) works for top task analysis.
Interview Your Customers in Person.
Boag recommends Rocket Surgery Made Easy by Steve Krug as reading on the topic of customer feedback interviews. General guidelines include:
Interview at least three customers, in person, once a month.

Approach each interview with something specific you want to learn.

Base interviews on activity (like product testing) rather than just talking.

Conduct interviews one-on-one, not with a group of customers.

Ideally, conduct interviews where customers normally interact with your products, but r

ealistically, these types of interviews are conducted remotely using tools like

https://lookback.io

.
Customer Journey Mapping.
Mapping the customer journey is a deep topic worth a stand-alone course, but for the purpose of understanding growth modeling, it's really about defining all the possible ways customers might find out about your business, and interact with your products/services. Most important is the recognition that it embraces how customers act and feel in a journey over time. 
While this may seem obvious, many companies approach marketing from a static customer mindset, not addressing how customer questions, tasks, objections, goals, and feelings are in a state of constant change. By understanding where customers are in the journey, we can best decide which channels in which to operate.
The actual journey map output is a visualized simplification – an easy-to-follow story of an archetypal customer. It contains only the essential steps and company 'touchpoints' in the journey, along with the information about the customer you want to gather at each step, and the questions, feelings, etc. The maps are used as constant reminders against marketing planning to see where specific campaigns fit and where.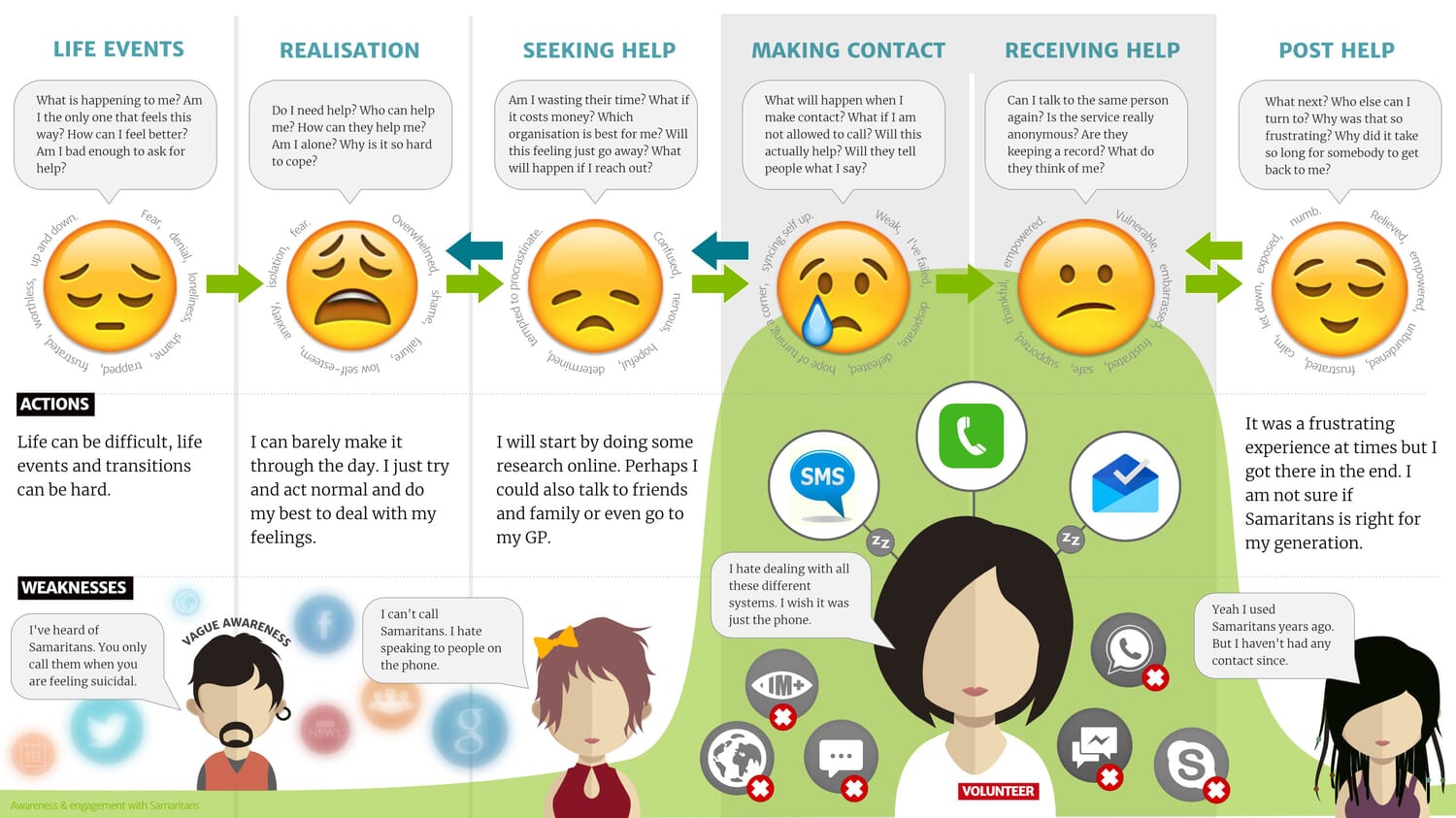 Journey Mapping Workshops.
Boag has created an extensive guide on running journey mapping workshops. Key takeaways below:
Who to invite.

Actual users/customers rather than members of the general public.

People from your company who work directly with customers every day.

Social media leads from your company (who access customer feedback).

Anyone from your company who handles research, insights, customer data.

A stakeholder from senior management – word of caution as senior managers at times lack relevant 'voice of the customer' perspective, and because of their relative authority, they can expect their input to be included even if data does not support their ideas.
Operating principals.

Simplicity is the outcome.

Looking for 5-6 steps in the journey.

Do not create a journey map alone/in a 'bubble'. One person tends to make too many assumptions. Plus, without buy-in from other participants (cocreation), the final map lacks legitimacy and may not be supported. 

Define scope first, either before you start or by brainstorming at the beginning of a workshop to ensure group buy-in.

Journey 'steps' are mapped horizontally in rows across the wall, with themes (questions, comments, concerns, etc.) running vertically down each step.

Once 5-6 key steps are agreed on in the grid, and themes are fleshed out, use post-it notes to vote on priorities. Three votes per participant (put a dot on each post-it note to vote).

With votes tabulated to indicate where to focus, break into smaller groups with each group tackling one step.

Once each break-out group is complete, review all again as one group to ensure input and buy-in. 
Turning the work into a visual map.

Photograph (in detail) all whiteboard/post-it note work.

Use the photo(s) to create an actual graphical map (or use an online tool) for reference – even consider getting a designer to create this final output.

Include a 'captured on' and an 'expiry' date to remind people that journey mapping is an ongoing exercise.

Create larger scale versions to place around your office to remind people of the customer-centric mindset, and for marketers to consult with around the mindset of "I am _____

, 

I want to____, so I can_____, for campaign planning.
Testing Design With Customers.
A deeper exploration of testing methodologies within growth marketing (commonly applied to landing pages, email design, digital ad design, etc.) exists later in this mini degree program. Below is a general overview of the many tools and approaches available:
Basic preference test

– Commonly A/B multivariate testing.

Keyword solicitation

– Indicating how design or copy is perceived through open-ended word input or semantic differential surveys (sliding word scales). Output as word clouds.

First-click test

– Asking generic 'what would you click on first?' or driven by specific instruction ('if you wanted to do certain action what would you click on first?') Intended to determine if the focus of the design is effective.

Five-second test

 – Five-second exposure to a design, then 'what do you remember?' solicited, making note of the order in which things are remembered. Excellent test for visual hierarchy.

Card-sorting –  

Exercise demonstrates that people might organize things in very different ways than you would. Open card sorting vs closed sorting. A good tool is

optimalworkshop.com/optimalsort.
Other great tools:
Remote usability testing

.

Recruiting test subjects:
A few other videos worth review:
---
---
---
---
Send your suggestions for Growth Marketing resources to .